The Innovation and Technology Scholarship, jointly supported and sponsored by the Innovation and Technology Commission and HSBC, and organised by The Hong Kong Federation of Youth Groups (HKFYG), selects 25 local undergraduates with enthusiasm in innovation and technology (I&T) every year. Each of them is awarded a scholarship of up to $150,000 with a full slate of support for acquiring cross-cultural experience. The aim is to help them explore their I&T potentials for pursuing a career in the field and contributing to Hong Kong's I&T development, reinforcing the city's status as an international I&T hub. At the award presentation ceremony held at the Hong Kong Convention and Exhibition Centre today, the Chief Executive of the Hong Kong Special Administrative Region (HKSAR), Mrs Carrie LAM, presented the certificates to the awardees in 2020 and 2021.
The 25 awardees of the Scholarship 2021 are from The University of Hong Kong, The Chinese University of Hong Kong, The Hong Kong Polytechnic University, The Hong Kong University of Science and Technology and City University of Hong Kong. They are currently studying a range of disciplines, including medicine, veterinary medicine, environmental management and technology, computer science, financial technology (fintech), biomedical science and earth system science.
Mrs Carrie LAM encouraged the awardees, "Whatever their future endeavours, I am confident that they will enjoy rewarding careers and lives, while helping Hong Kong take its place as an international hub for innovation and technology."
Ms Diana CESAR, Chief Executive, Hong Kong, HSBC, said, "I'd like to congratulate this year's Innovation and Technology Scholarship Award winners. HSBC is proud to have co-founded this programme which has awarded 275 scholarships since 2011. Those planning to broaden their experience via the scholarship's overseas study programmes should consider themselves ambassadors of Hong Kong. Make the most of this invaluable opportunity to learn and at the same time showcase the qualities and strengths of the city."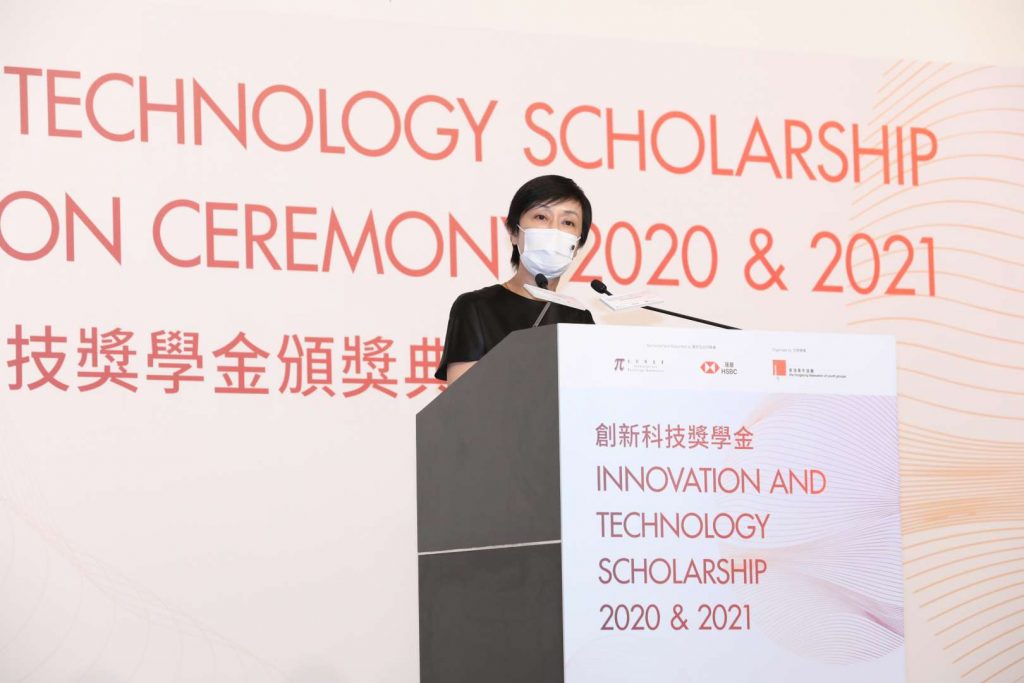 According to the Executive Director of The HKFYG, Mr Andy HO Wing-cheong, "Through the Scholarship over the past ten years, we have enabled talented students to keep up with the latest development in their chosen fields, while also gaining valuable experiences through internships; and having the opportunity to be mentored by experts. I believe that with this support, all the awardees will continue to be innovative, using the latest technology to become leaders in their disciplines." He congratulated the recipients and hoped they would encourage others to discover their passion and talent to be technologically innovative in different disciplines.
The Chairman of the Awardee Selection Committee, Mr Bernard CHAN said, "After more than a year of fighting the pandemic, people have got used to remote work and learning. Not only re-understanding and applying technology, but we are also more aware of the importance of innovation and technology to the future of mankind. Technology is not just about developing a vaccine to save the world. It is about improving lives and facilitating citizens to cope with daily challenges. It is about how to break with traditions through creativity. This gives young people much to think about when facing adversity."
Awardees of Innovation and Technology Scholarship 2021: (in alphabetical order of surnames)
| | | | |
| --- | --- | --- | --- |
|   | Awardee | University | Programme |
| 1 | CHAN Hiu Man | City University of Hong Kong | Bachelor of Veterinary Medicine |
| 2 | CHAN Ho Fung | The Chinese University of Hong Kong | Bachelor of Medicine and Bachelor of Surgery |
| 3 | CHAN Wing Lam | The Hong Kong University of Science and Technology | Bachelor of Science in Biotechnology and Business |
| 4 | CHAU Yat Che Charlene | The University of Hong Kong | Bachelor of Medicine and Bachelor of Surgery |
| 5 | CHEUNG Yin Chi | The Hong Kong Polytechnic University | Bachelor of Science in Occupational Therapy |
| 6 | CHOI On To Sonja | The Chinese University of Hong Kong | Bachelor of Science in Physics (Enrichment Stream in Theoretical Physics) |
| 7 | CHOW Bak Yue | The University of Hong Kong | Bachelor of Medicine and Bachelor of Surgery |
| 8 | CHU Wang Yee | The University of Hong Kong | Bachelor of Medicine and Bachelor of Surgery |
| 9 | CHUI Siu Wa | The University of Hong Kong | Bachelor of Biomedical Sciences |
| 10 | HO Chun Wa | The Chinese University of Hong Kong | Bachelor of Science in Biomedical Sciences |
| 11 | LAM Rainbow Yi Hung | The Hong Kong University of Science and Technology | Bachelor of Science in Environmental Management and Technology |
| 12 | LAU King Heng | The Chinese University of Hong Kong | Bachelor of Science in Earth System Science (Atmospheric Science & Science, Technology And Research Stream) |
| 13 | LOO Hiu Tung | The Hong Kong Polytechnic University | Bachelor of Science in Biomedical Engineering |
| 14 | NG Chit Yui Jeffrey | The Hong Kong Polytechnic University | Bachelor of Science in Physiotherapy |
| 15 | NG Ming Hin | City University of Hong Kong | Bachelor of Science in Computer Science |
| 16 | POON Hiu Ling Stephanie | The University of Hong Kong | Bachelor of Medicine and Bachelor of Surgery |
| 17 | SHAM Sze Tung Tiffany | The Chinese University of Hong Kong | Bachelor of Medicine and Bachelor of Surgery (Global Physician-Leadership Stream) |
| 18 | WONG Ho Chi | City University of Hong Kong | Bachelor of Business Administration in Global Business Systems Management |
| 19 | WONG Tsz Yan | The Hong Kong University of Science and Technology | Bachelor of Science in Biotechnology and Business |
| 20 | WONG Wai Ning | The Hong Kong University of Science and Technology | Bachelor of Engineering in Computer Science and Bachelor of Business Administration in General Business Management |
| 21 | WONG Wing Yan | The Chinese University of Hong Kong | Bachelor of Medicine and Bachelor of Surgery (Global Physician-Leadership Stream) |
| 22 | YAU Hui Ching | The Chinese University of Hong Kong | Bachelor of Engineering in Financial Technology |
| 23 | YEO Victoria Anna | The University of Hong Kong | Bachelor of Medicine and Bachelor of Surgery |
| 24 | YEUNG Yuen Hei | City University of Hong Kong | Bachelor of Science in Computer Science |
| 25 | YUEN Lok Cheung | The Chinese University of Hong Kong | Bachelor of Medicine and Bachelor of Surgery (Global Physician-Leadership Stream) |
Awardees of Innovation and Technology Scholarship 2020: (in alphabetical order of surnames)
| | | | |
| --- | --- | --- | --- |
|   | Awardee | University | Programme |
| 1 | CHAN Timothy | The University of Hong Kong | Bachelor of Science |
| 2 | CHAN Tsz Ying | The University of Hong Kong | Bachelor of Science in Speech and Hearing Sciences |
| 3 | CHAN Yan Yan | The Hong Kong University of Science and Technology | Bachelor of Science in Physics (International Research Enrichment Track) |
| 4 | CHEUNG Man Hin | The Chinese University of Hong Kong | Bachelor of Science in Public Health |
| 5 | CHEUNG So Yee | The University of Hong Kong | Bachelor of Science |
| 6 | CHING Chi Fung | The Hong Kong Polytechnic University | Bachelor of Science in Radiography |
| 7 | CHOW Tsz Ching | The Hong Kong Polytechnic University | Bachelor of Science in Occupational Therapy |
| 8 | KWOK Ka Hin | The Hong Kong University of Science and Technology | Bachelor of Engineering in Mechanical Engineering and Bachelor of Business Administration in General Business Management |
| 9 | KWOK Sum Sum | The University of Hong Kong | Bachelor of Medicine and Bachelor of Surgery |
| 10 | KWOK Yat Long | The Chinese University of Hong Kong | Bachelor of Science in Physics (Enrichment Stream in Theoretical Physics) |
| 11 | KWOK Yuk Lam | The Hong Kong University of Science and Technology | Bachelor of Science in Physics (International Research Enrichment Track) |
| 12 | LAI Chu Kwan | The University of Hong Kong | Bachelor of Medicine and Bachelor of Surgery |
| 13 | LAM Gigi | The Chinese University of Hong Kong | Bachelor of Medicine and Bachelor of Surgery (Global Physician-Leadership Stream) |
| 14 | LAU Katherine | The University of Hong Kong | Bachelor of Dental Surgery |
| 15 | LEUNG Hei Long | The Chinese University of Hong Kong | Bachelor of Medicine and Bachelor of Surgery (Global Physician-Leadership Stream) |
| 16 | LEUNG Ka Chai | The University of Hong Kong | Bachelor of Dental Surgery |
| 17 | NG Sheung Chit | The University of Hong Kong | Bachelor of Medicine and Bachelor of Surgery |
| 18 | NG Wing Yin | The Chinese University of Hong Kong | Bachelor of Science in Cell and Molecular Biology |
| 19 | TING Lung Ngai | The Chinese University of Hong Kong | Bachelor of Medicine and Bachelor of Surgery (Global Physician-Leadership Stream) |
| 20 | TSE Lok Yung | The Hong Kong Polytechnic University | Bachelor of Science in Physiotherapy |
| 21 | TSE Man Kei | The Chinese University of Hong Kong | Bachelor of Science in Cell and Molecular Biology |
| 22 | WONG Chun | The Chinese University of Hong Kong | Bachelor of Medicine and Bachelor of Surgery (Global Physician-Leadership Stream) |
| 23 | WONG Hoi Wing | The Chinese University of Hong Kong | Bachelor of Medicine and Bachelor of Surgery (Global Physician-Leadership Stream) |
| 24 | WONG Lok Lam | The Hong Kong Polytechnic University | Bachelor of Arts in Fashion and Textiles (Knitwear Design and Technology) |
| 25 | WONG Wing Yan | The University of Hong Kong | Bachelor of Biomedical Sciences |